E920 MULTI-AXIS LENS EDGERS
Our full featured price value leader. The most durable, dependable cut and edge machine ever made. All the same advanced engendering and durability as our most advanced E1000 Series Edgers.
High definition large color screen with touch-panel interface

enables extremely quick & simple to operate.
---
---
Built-in 60 job memory and shape modification are still standard.
---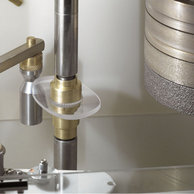 3D Lens-sensor system
Unique high accuracy 3D sensor system measures shape, thickness and curve of the lens-edge for the optimum bevel placement, yet for the "Self Lens-Trace".
Vertical spindle technology
Enhanced durability, easy access and lens bench space
High quality three-wheel Configuration
for the finest and sharp bevel and rimless finish
920 SYSTEM / E920 Lens Edger with 3D Dual Eyewire Tracer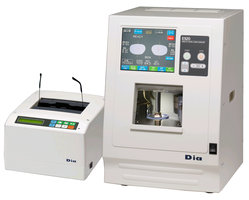 What is different?
The 920 SYSTEM is the same basic system as the E1000 Type S Edger + FD-80 Tracer but to reduce cost the following significant items are not included:
Barcode reader interface
200 job memory in the tracer (but E920 Edger still has 60 job memory itself)
Data communication with PC and connection with our SD-1 Signal Distributor
The E920 Lens Edger is not provided with the "Advanced re-edge and finish" function for unblocked lenses.
The Tracer included in this 920 SYSTEM is not the FD-80 but exclusive for this system and can be interfaced with the E920 Lens Edger only. However this Tracer is upgradable later to a full FD-80 Tracer at extra charge, which upgrade will enable the system to utilize the above-itemized functions, (1), (2) and (3) except (4).
Accessories for E920 Edgers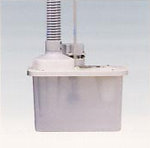 Standard accessories
Recirculating coolant system (water tank and pump) is standard together with lens chucking materals, tools calibration gauges, etc.
---
Optional Lens Blockers for 920 SYSTEM
| | | |
| --- | --- | --- |
| | | |
| | | |
---
Deodorizer system (JD-3)
Deodorizer system (JD-3) with air-filter
(Optional accessories)
The simplest but perfectly efective deodorizer. Adding the extra air-filter will prolong the life span of the deodorant.
---
Program Memory Modules (Optional upgrade)
Memory modules are available to keep your edger' software completely up to data.
---
Signal distributor (SD-1) (Optional accessory)
With this automatic switching device, up to 5 units of E1000/E920 Edgers and/or LS-82 Blockers can be connected to one FD-80 Tracer with barcode reader interface.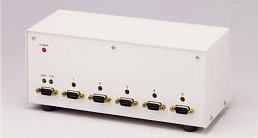 ---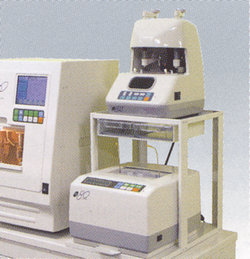 System rack (Optional accessory)
Stores the FD-80 Tracer and LS-82 Blocker vertically.
This simple knockdown rack provides increased productivity and saves a space of your workshop counter.
---
Direct water connection kit (Optional accessory)
City water is supplied direct to an E1000/E920 Edger under computer control.
Specifications
E920 Lens Edger
Diameter of lens acceptable
[Min]18mm high with bevel, 16mm high rimless finish (with optional chucks) / [Max] 100mm
Types of (fully-automatic) finishing available
Standard beveling / Rimless finishing
Bevel programs
Fully-automatic (computer controlled) beveling / Controlled beveling including front-face curve, optional curve and position
Dimensions / Weight
370(W)x370(D)x553(H)mm / 39kg
Power requirement
100-120V / 60Hz or 200-240V / 50Hz AC, 600W
Tracer for 920 SYSTEM
Operation modes
•Automatic both eyes / Single eye measurement •Frame / Lens / Pattern tracing •Variable tracing speeds
Range of measurement
Frame:18mm (in height) - 70mmφ Lens:15mm (in height) - 70mmφ
Time of tracing
•38 seconds for measuring both eyes •22 seconds for lens or pattern
Data ports
2)RS232C 1)RS232C with DC5V (option)
Dimensions / Weight
280(W) x 310(D) x 180(H) mm / 7 kg
Power requirement
24V DC, 20W (100-240 AC / 24V DC adapter attached)