e6.20 e6.10 AUTOMATIC LENS EDGERS
Two series of our new lens edgers, e6.20 and e6.10 meet the requirements for a wide range of lens edging.

All lens materials
Grinds all current lens materials including Polycarbonate accurately and quickly.
Yet, the Model e6.20T cuts out both plastic and mineral glass lenses at high specializing in each material.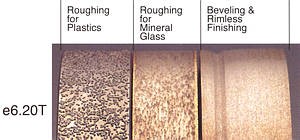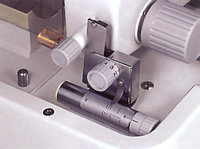 A built-in controlled beveling unit allows you to fine-tune the bevel placement on hight-power lenses.
Three-degrees head pressures can be selected according to the style of lens.
An anti-foam coolant system (water tank & pump) is standard.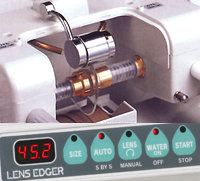 A direct water supply system (city water connection kit) and motorized lens chucking system also available from the optional accessories.
The model e6.20 series includes a lens measuring system that enables you to verify the finished lens size without removing the lens from the machine.

There's one to fit your needs!

Model e6.20T

Lens measuring system Installed

Features
High speed edging for both plastic and mineral glass lenses
All materials including polycarbonate
Free-float bevel, Controlled bevel, Rimless finish

Model e6.20V

Lens measuring system Installed

Features
All materials including polycarbonate
Free-float bevel, Controlled bevel, Controlled mini-bevel, Rimless finish

Model e6.20S

Lens measuring system Installed

Features
All materials including polycarbonate
Free-float bevel, Controlled bevel, Rimless finish

Model e6.20P

Lens measuring system Installed

Features
Specialized for plastic lenses only
Free-float bevel, Controlled bevel, Rimless finish, Rimless polishing

---

Model e6.10T

Lens measuring system Not Installed

Features
High speed edging for both plastic and mineral glass lenses
All materials including polycarbonate
Free-float bevel, Controlled bevel, Rimless finish

Model e6.10S

Lens measuring system Not installed

Features
All materials including polycarbonate
Free-float bevel, Controlled bevel, Rimless finish

Model e6.10P

Lens measuring system Not installed

Features
Specialized for plastic lenses only
Free-float bevel, Controlled bevel, Rimless finish, Rimless polishing

Wheel specs

A:Electroplated roughing(18mm wide)
B:Metal-bonded roughing(16mm wide)
C:Metal-bonded roughing(18mm wide)
D:Metal-bonded beveling / Rimless finish (22mm wide)
E:Metal-bonded beveling (14mm wide)
F:Metal-bonded rimless / Mini-beveling (18mm wide)
G:Metal-bonded rimless finish (12mm wide)
H:Metal-bonded rimless finish / Rimless polishing (22mm wide)

Common Specifications
meter of Lens Acceptable
Min:22mm in height(Rimless) / 24mm
in height(beveling) with small lens chucks
Max:100mm(Φ)
Dimensions
430(W)x430(D)x350(H)mm
650(H)mm when cover is open
Weight
33kg(Main unit) / 5kg(Accessories)
Power Requirements
100-120V/60Hz AC or 200-240V/50Hz AC, 250W